Back to all posts
Posted on
Grad Feature: Ice Wall Climbing & Beyond - Sefora Friesen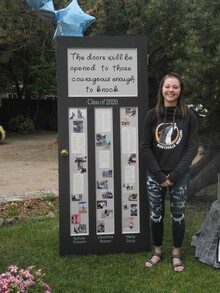 PICTURE BUTTE, AB
Sefora Friesen is an avid outdoors fanatic with a new and feisty attitude towards her future. 
   Sefora Friesen's educational journey began at Huntsville School, then she homeschooled for  junior high. Two years ago, Sefora returned to Huntsville School for the new High School Program. 
   "Coming back to Huntsville was like returning to a second home. Everyone is so friendly, you can be yourself and everyone is there to support you."
   In 2019, Sefora attended a dual credit Outdoor Leadership experience in the wilderness of Nordegg, Alberta. 
  "This was a really powerful experience! I learned a lot about teamwork and that I could lead others." 
   "I've always had an interest in the outdoors, but something about the group experience of climbing up a shear wall of ice has given me greater confidence in all areas of my life. 
   "My future plans include attending college to study Deep Muscle Therapy. And of course, skiing, mountain biking and rock climbing."