Back to all posts
Posted on
Grad Feature: A 'Come-Back' Story - Maria Dyck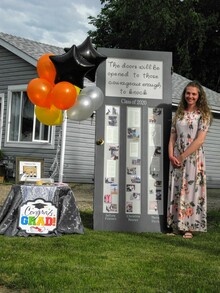 PICTURE BUTTE, AB
Like many students, Maria Dyck was torn between holding down a full time job and wanting to finish high school. But this hardworking and very independent young woman would show everyone what she was capable of. 
   Maria returned to Huntsville School after completing Grade 9. "As soon as I heard about Huntsville starting up a High School Program, I knew I wanted to be a part of it."
   After taking a year off, and with her full time job at Noby Sudo Farms, Maria and her teachers were unsure as to whether she would be able to devote enough time to her studies. 
   Because of work, Maria missed the first two months of the school year - two years in a row! This left Maria to work on courses by herself into the evenings on her kitchen table. 
   Amazingly, and through sheer determination, Maria was able to stay caught up with her classmates.
   "What really helped was the amount of encouragement and support I received from all of the teachers and staff. No one gave up on me, even though I had so many moments when I was ready to quit. Another big help was my faith in God, and through prayer, I was always able to carry on."  
   "It was also great that I could earn credits through work experience, so even though I had to work, it helped me to graduate."
   "It might be a couple years before I'm able to attend post-secondary, but I'm very interested in becoming a paralegal."